Product Information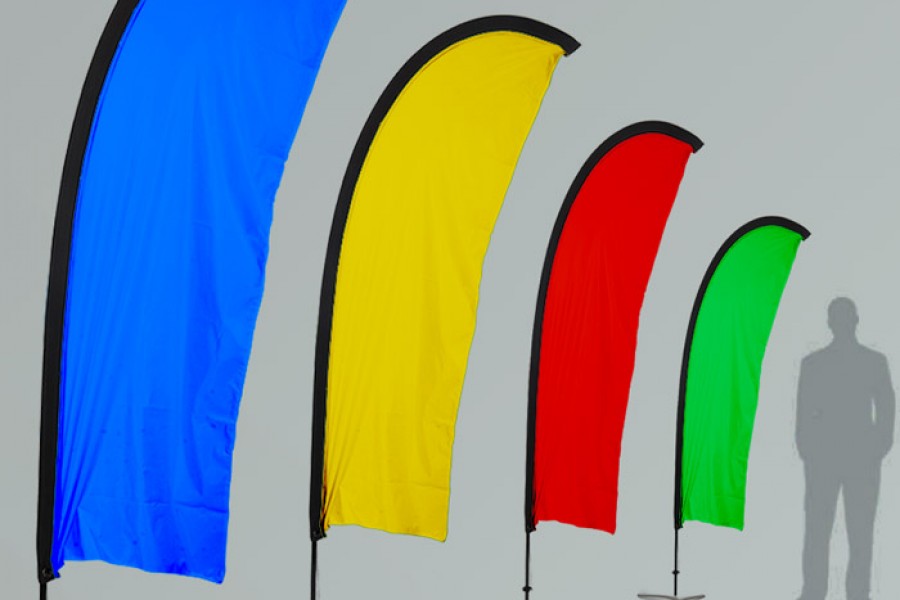 Catch new business
Use feather flag printing to help get noticed! Personalised flags are ideal for use indoors and out, for cafes, car dealerships, theatres, beaches and museums. Feather flags are available in a variety of sizes to suit every message, choose from 2600 x 550 mm, 3200 x 600 mm, 4000 x 800 mm and 4900 x 850 mm. This size is the total height of the flag, including the pole. Simply select a size and upload an eye-catching design to start raising awareness for your client's company. Flags are made from 110g/m² flag knit material, which has a mesh feel, and offers wind-resistance. Flags are printed single-sided using our dye sublimation process, and come complete with a base, fibreglass pole and bag for easy assembly and transportation. A selection of bases are available to suit every flag purpose. Depending on the size of the flag and for an easy to move flag, choose a large or small cross-base. Alternatively, secure the flag in grass with a spigot base, or to ensure this flag stays put, choose our heavy-duty base, which can be filled with water or sand. These bases are available for purchase separately or as part of your flag order. For more information on the bases available see the full range
here.
Not what you're looking for?
Click
to browse our teardrop and crest flags.
Choose Printing Options
Size
Base
Quantity
More Prices
The price below is based on your chosen printing options above and relevent service.
How to care for your flag:
Wash in a regular washing machine at 30°C with everyday detergents. Please allow to completely dry before folding and storing.
Wash at 30°
Flat dry
Do not tumble dry
Do not iron
Do not dry clean
Do not bleach
Please supply two files, one for print and one with the template overlaid as a guide. Once you have placed your order you can upload your print ready artwork. You can use the templates below to set up your files.
300dpi resolution
Supply at a scale of 25%
Include 3mm bleed on all sides
Supply as a CMYK PDF
Outline or embed fonts
For more guidance on how to successfully set up and submit your artwork, View our
artwork guide.
Artwork Templates: