Product Information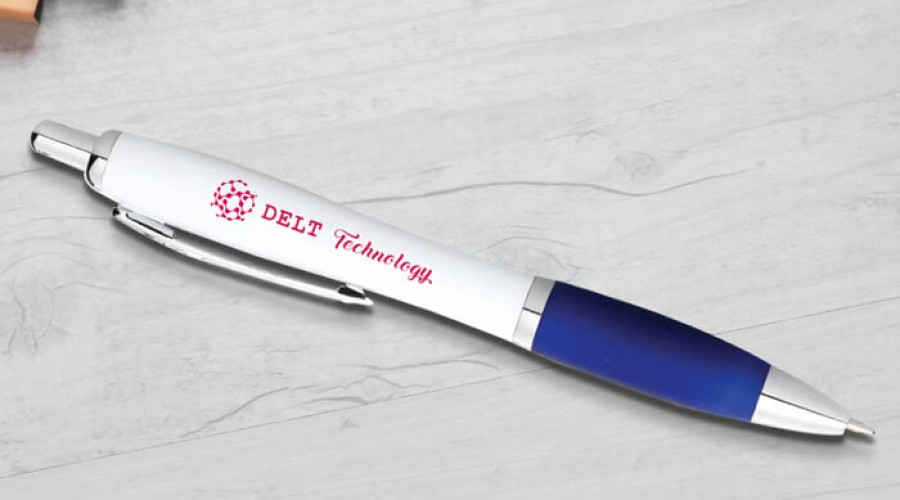 The reliable writer that hits the spot
Our classic curve pen is a great all-rounder. A smooth writer with a comfortable soft grip to give an air of quality. Available in black ink and with a choice of 10 different coloured grips. With a printable area of 50 x 6mm, the white barrel provides the perfect canvas for a logo or strapline.
Available in single colour print for those on a tighter budget or just have a simpler logo. The perfect combination of quality and price, this reliable writer won't let you down.
Spot colour printed pens are produced using the high-resolution pad printing method where the image is transferred on to the pen via a silicon pad.
Choose Printing Options
Format
Quantity
Price
£

More Prices
Click a price below to add an item, based on your chosen printing options above and relevent service, to the basket.
Artwork Guidelines
Artwork Instructions:
We recommend you create your artwork in Adobe InDesign or Adobe Illustrator and supply your file as a print-ready PDF, saved under PDF profile PDF/X-1a:2001. Please submit your files as 1 layer without transparencies.
Your artwork must be vectorised without any overlapping paths or bitmap images.
Fonts must be outlined or embedded within your file.
The printable area is the same size as the format size to be submitted, 50 x 6 mm. Please ensure the full design is included within the printable area. You do not have to supply bleed or use crop marks on your artwork.
Colours should be used from the Pantone® Coated Library only. We cannot accept CMYK, RGB or unnamed spots. To print in black or white, please use the colours Pantone Black C and Pantone White (you can create a swatch named PANTONE White within your swatch palette).
Artwork must be supplied as solid closed vector shapes without any gradients or transparencies, we cannot replicate these effects using the Pad Printing process.
We recommend line-work has a minimum weight of 1.5pt (points) (3pt for reversed-out lines).
Fonts should be at least 8pt (10pt for light and decorative fonts)
Technical Specifications:
Pen Type: Ballpoint Pen Material: ABS Plastic Length: 140mm Diameter: 10mm Weight: 20g
Please download our templates below to assist with setting up your artwork.