Product Information
Advisory Safety Tape
Printed with the below design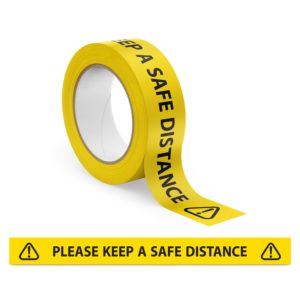 Adhesive Floor Tape
Our social distancing adhesive tape for floor marking is an easy way to indicate where people should stand, queue or walk 2 metres apart. The printed floor warning tape is a perfect health and safety visual management sign for the workplace and social environments such as guiding customers in supermarkets. This adhesive tape has the text "Please Keep a Safe Distance" printed in black on a bright yellow background. It is made of strong laminated material and can be removed easily when no longer needed.
Helps employees and customers comply with social distancing recommendations.
Ideal for marking out areas in supermarkets, banks, petrol stations, hospitals, pharmacies and more.
Self-adhesive, PVC tapes.
Flame retardant.
Apply to the floor by hand or use an optional applicator where straighter lines are required.
Size - 48mm x 33m
Lead time = 4-5 working days.
Choose Printing Options
Products
Format
Quantity
No upload required. Please choose your preferred design from the options available.